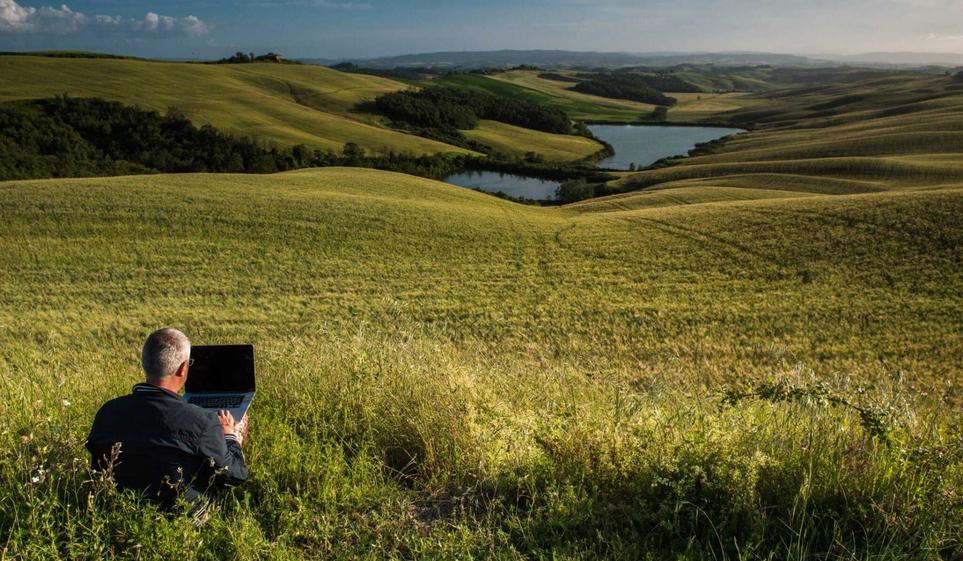 Remote Job in Umbria
The 8 best places for remote working in Umbria

The fact that the pandemic has radically changed everyone's habits is now a given. Habits which, even when the emergency has passed, will be hard to change even when life returns back to normal. One such habit is remote working, which has changed the lives of many of us. What used to be an obligatory choice is now increasingly being considered as an alternative way of life, especially if the remote work is done in a quiet place far from the chaos of the city and offices.
Smart working in Umbria. Is it worth it?
Among the many destinations chosen for working from home, by Italians but also by many foreigners, there is - of course - Umbria, which is the perfect region for remote working: quiet, beautiful and conveniently located close to the urban centres such as Rome and Florence.

But in addition to needing peace, beauty and an excellent location, another fundamental requirement for remote working is undoubtedly a good internet connection. In 2016, the first phase of implementation of the Broadband Strategic Plan began in Italy, aimed at developing an ultra-broadband network throughout the country to create an efficient, state-of-the-art public telecommunications infrastructure by 2023.
To date, Umbria is one of the most advanced regions, with the majority of municipalities covered by fibre or ultrafast wireless networks and with the completion of the work planned for the end of 2022.
But what are the best places in our region to work from home? Here is our personal ranking!
Ficulle
Ficulle is a small village of 1600 inhabitants in the southern province of Terni. Its ancient origins date back to Etruscan times, but its identity is still visibly anchored to its medieval period, to which most of its buildings and the walls surrounding the village date back. In Ficulle, broadband coverage with a fibre optic network has already been in place since the beginning of 2021 and total wireless coverage is planned for mid-2022.

Discover Ficulle
Our most interesting properties in Ficulle
Fabro
Fabro, located on the crest of one of the hills surrounding the city of Orvieto, does not fail to show its strong medieval identity, especially in its historic centre, set within the medieval castle, dating back to the year 1000, and built over the pre-existing Roman walls. Fabro enjoys convenient access to the A1 motorway, one of Italy's main express routes. Fabro, like Ficulle, has active fibre optic coverage and the end of work on wireless coverage is scheduled for 2022.

Our most interesting properties in Fabro
Montefalco
Let's move on to the province of Perugia, in the area much loved by wine and food lovers. As well as being the home of Sagrantino, Montefalco has also been named Italy's most beautiful village, rich in history and monuments, and the view from its walls over the valleys of vineyards and olive groves is very impressive. Montefalco already enjoys fibre optic coverage and work to install wireless coverage will begin in mid-2021.

Our most interesting properties in Montefalco
Panicale
Panicale is a medieval village of great historical importance, as evidenced by its imposing fortifications. It is located about 6 kilometres from the southern shores of Lake Trasimeno, on a hill about 400 metres above sea level, from which the entire valley, crossed by the River Nestore, is overlooked: one of the most beautiful views that Umbria has to offer. In Panicale, work began at the beginning of 2021 on the installation of the wireless network, which is expected to be operational, together with the fibre optic network, in mid-2022.

Discover Panicale
Our most interesting properties in Panicale
Piegaro
Not far from Panicale, also in the province of Perugia, lies the village of Piegaro, perched on the hills surrounding Lake Trasimeno. The tranquillity of this hillside village is enlivened by the many culinary and cultural events that take place throughout the year, such as the Glass Festival, which celebrates one of the greatest traditional craft excellences. Also in Piegaro the work for the installation of fibre optics has been completed and is nearing completion and that for the installation of wireless will be completed shortly, at the beginning of 2022.

Our most interesting properties in Piegaro
Orvieto
Orvieto is one of the jewels of the Region, but it is also a large and well-equipped town that combines its renowned historical and artistic beauty with great liveability and availability of services. Despite the fact that its historic centre seems almost perched on top of an impressive tufa cliff, Orvieto enjoys a strategic position, making it possible, for example, to reach Rome in just over an hour's journey. In a few months, work will begin on the installation of both fibre optics and the wireless network throughout the city, which will be fully completed by the end of 2022.

Our most interesting properties in Orvieto
Parrano
Parrano is a small pearl, with just 500 inhabitants, quiet and secluded, situated on a hill at an altitude of 400 m and immersed in that deep and unmistakable green that can only be found in Umbria. This village, with its historical and above all naturalistic beauties (such as the splendid "Tane del Diavolo"), is the ideal destination for those who need to carry out their remote work in complete relaxation and surrounded by tranquillity. Despite being a slightly more isolated location than the others, Parrano has a structured and efficient broadband network. It is no coincidence that by mid-2020 the municipal area will be fully covered by the fibre network.

Discover Parrano
Our most interesting properties in Parrano
Tuoro
If you prefer a lake environment to a hilly or mountainous one, you'll fall in love with this small village on the northern shore of Lake Trasimeno. Tuoro, besides being well connected and reachable from Florence in just over an hour, has beaches and piers where you can go for long walks (enchanting at sunset!) and the harbour where ferries leave for the islands of the lake, also of great cultural and natural interest. In Tuoro, the installation of broadband, both wireless and fibre optic, is due to be completed by mid-2022.

Our most interesting properties in Tuoro

All news about the progress of the Ultra Broadband project were taken from https://bandaultralarga.italia.it/